DeebeePEDIA
Deebee Bishop (Musician)
Birth name Douglass Sydney Kean. Changed name to Deebee Bishop on July 3rd 2007.
Born 1960's
Deebee Bishop is an Australian musician, performer, writer, woodworker.
He has recorded albums with two bands also an EP with Sneak Preview and 3 solo albums.
Deebee Bishop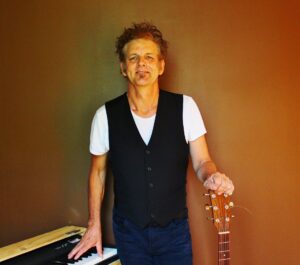 Promotion photograph April 2017.
Background information
Birth name Douglass Sydney Kean
Born 1960's (age 60's)
Manley QLD Australia.
Genres Acoustic Rock, Indie country.
Occupation(s) Musician, singer songwriter, writer, woodworker.
Instruments Acoustic Guitar, Piano, Bass, Saxophone, Clarinet, Banjo, Tenor Uke, Blues Harp, Vocals.
Years active 1981- present.
Associated Acts Odds n Ends, Sneak Preview, The NuMotives, The Dullards, Twang, The Blue-arse Flies.
Website www.deebee.net.au
EARLY LIFE
Born on top of the mountain in Maleny QLD Australia, Deebee moved multiple times during his adolescence. Including Ipswich, Kingaroy & Salisbury in QLD, Bankstown, West Ryde, Meadow bank, Epping, Hornsby in Sydney.
Following his primary schools days in Salisbury QLD he continued high school at Marsden High in Sydney.
Leaving school at the early age of 15 (year 9 of high school) Deebee started an apprenticeship as a Ships Carpenter and went to Ultimo College in Sydney. He worked as a Musician/Carpenter until 1989 when he
auditioned as a saxophone player at the Wollongong Conservatorium of music studying composition & Jazz studies under the acclaimed Australian Violinist Don Harper.
MUSIC
Influences
Deebee Bishop regards John Sebastian (The Loving Spoonful) Bob Dylan and Neil Young as his three formative musical hero's, becoming aware of these artists as a younger teenager.
Deebee regards John Sebastian as his favourite songwriter.
In 2003 Deebee performed as the role of Bob Dylan in the acclaimed Bob Dylan Revue.
Six musicians dressing as The Band using the same gear and performing Dylans hits in Theatre restaurants.
Deebees first band was Odds n Ends, he formed the band with 3 other friends who all worked for Fusion Australia. The attic Coffee house Drop in centre in Hornsby was their rehearsal room. Odds n Ends who eventually became Sneak Preview was a very popular outfit and performed at many Christian outreach centres and in Pubs around Sydney. They recorded an EP at a small studio in Sydney North Shore.
Out of Sneak Preview came the Nu Motives. Martin Kirkpatrick (Guitarist) had joined Sneak Preview when Sneaks lead guitar player Ian Burns had left. Martin was a focused driven musician who would not take NO as an answer. Martin Coaxed Deebee to leave Sneak Preview & start a Ska Rock band with Drummer Steve Lewis and Dirk Dubious on bass. The band immediately fell into a groove rehearsing & writing 6 hours a day
7 days a week. Within 6 months the band was touring Australia with Touring manager Leith Krakuer a fiery
highly motivated volatile manager who was able to get the band to support acts like INXS, The Models,
Kate Ceberano, The Triffids, The Violent Femmes. Nu-Motives recorded an album at the Perth School of Audio engineering in 1984/85 the single from the album "If You Don't Fight You'll Lose" became their signature tune and was very successful for a short time.
Solo career
Deebee started to perform as a solo musician because it was easier on the emotions, there was a lot less anxiety being out on the road alone. He toured East coast of Australia and spent long periods of time in Tasmania. He toured to Spain, France, Ireland & Scotland mainly working as a busker. When returning to Sydney continued making a living out on the streets. Deebee claims… "Busking is where its at if you want to learn how to work an audience".
Deebee started to seriously write songs, everyday a new song, he had a thousand and began to record them all at Troy Horse recording studio in Newtown Australia with new band TWANG. Guy Chapman on Bass guitar, Fiddle and harmony vocals, and Chris Thompson aka Chewy on Drums. Chris Thompson one of Australia's leading drummers was in the Australian Navy, Chris read drum music and could play like a metronome when required. Chris was also an extremely funny person who was great company at any time.
Guy Chapman (who we called three men in one, check the name) Had been a good friend of Deebees since the late 1980's when they wrote and performed a show called "Fist Of Affection" with writer Scott Rankin. The trio performed at the Adelaide Fringe festival and the Melbourne Comedy festival as well as on the Big Gig in 1990.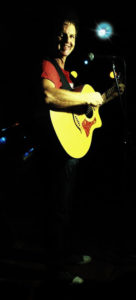 Bowra theatre June 2021
Deebee continued to perform solo in pubs, clubs, house concerts, cruises always writing while out on the road.
In 2013 Deebee now living on the Mid North Eastern Coast of Australia began to write THIRST, a story telling show with lots of original acoustic music on acoustic guitar, piano, banjo, tenor uke, blues harp ,stomp box & vocal. He began to perform the show in small theatres up & down the east coast.
The show THIRST is both comical & tragic, it tells the story of six young lads living in a share house in Epping (Sydney) the house was a huge very run down old federation house. The six young lads lived together, life was great for it was the 1980's, there were almost no pressures on all 6 nineteen to twenty one year old men. One weekend they had a visitor, it was cold & raining and an old man came to stay at the share house for the weekend. The old mans name was Stan Adams, he was a former officer in the Australian Merchant Navy. Stan had fallen on hard times and was addicted to alcohol.
All six young lads became totally besotted with Stans nature & his humour that they let him stay.
He came to stay for the weekend & stayed for the rest of his life.
At the time all this happened Deebee was 19 years of age, writing poetry and teaching himself how to play the guitar. Many years later Deebee wrote about what had happened using the poetry and the many quirky sayings Stan used to use, this story became THIRST.
Currently Deebee is performing solo in a show he calls Punk-Folk. Also on acoustic guitars, piano, banjo, tenor uke. Punk-folk is original songs about growing up as the son of a preacher man.
The story follows Deebee struggling through adolescence, moving from school to school.
A strict brethren father the turmoil of growing up, no secular music permitted, no parties, no long hair
Short black pants white shirt & black tie was the attire. Step out of line and the consequences was painful.
And then at 17 years of age Deebee heard the Sex Pistols on a program called Go Live.
That was the end of all restrictions in Deebees life, the future was his own and nobody else would ever tell him what not to do again.
Deebee recorded an EP titled Punk-folk volume 1 in his home studio, mixed and mastered by Stewart Peters at Soundshed Studios in Valla. (link to Punk Folk here)
Side Projects
In 2002 Deebee and fellow musician Guy Chapman started "Small Talk"
Deebee had been working 4 nights per week in a duo called The WhereAbouts.
99% popular covers with backing trax. A great way to make some good money.
The original work was suffering, there was little time left in the week.
Deebee had many conversations with musicians around town who were all saying the same thing…
There are very few gigs open to artists who want to showcase their own original work.
Thats where Small Talk comes in. A few inner city bars in Sydney were happy to open on a Sunday afternoon and accommodate Small Talk.
Three acts of 45 min sets, soloists, duo, trios big bands, the only requirement was it needed to be Acoustic Based music, similar to the unplugged concerts that became popular in the mid 1990's.
Small Talk became popular for 4 years every Sunday afternoon in one of three inner city hotels.
When Deebee moved up to the Mid North Coast he tested the idea at the local Art Gallery in Macksville Matilda Art Gallery. The proprietor loved the show it was billed as The Mid North Coast Acoustic Club.
The show ran for the next 4 years, it would still be running but Covid19 has put an end to it….for now at least.
Theatre
In February 1990 Deebee Bishop, Scott Rankin and Guy Chapman wrote & performed their show called
"Fist Of Affection" at the Adelaide Fringe festival. The show was about three boys all sharing the name Robert, growing up in an Australian suburb, dealing with being male in the 1970's.
Awkward an aware slightly paranoid, confused with how to relate to the opposite sex. The main protagonist (Robert) fumbles through life in a day dream daze, talks to himself in front of mirrors writes whimiscle poetry and acts out inappropriately in most situations.
Fist of Affection is very visual the stage is full of artefacts about boys growing up, it has 9 songs written by Deebee, Scott and Guy. The show went onto to the Melbourne Comedy Festival with Glynn Nicholous and Anthony Ackroyd.
Thirst has also had 3 seasons in small theatres on the East Coast of Australia.
Other Projects
Leaving school at 15 years of age Deebee started an apprenticeship as a ships carpenter.
Finishing the apprenticeship four years later at Baymac mariner in Brooklyn Sydney.
Since then Deebee has always worked with wood.
Fully renovating a chineese Junk "Suzy Wong" in 1997 at Berowra waters Sydney.
Building 4 timber homes while working at nights in covers duo The WhereAbouts.
Currently Deebee is renovating his own home in Lower Buckra on the mid north eastern coast of Australia.
The house in set in the middle of dairy country, surrounded by cattle.
Deebee also fits camper vans, his motto "You only build it once, so build it right"
Deebees other passion apart from music & woodwork is drawing and painting.
When there's time you'll see Deebee with a pencil behind his ear working out some perspective of fence palings, people on the street, birds on wire.
Personal Life
Deebee has a Daughter Jasmine Melody Kean. He was married to Claerwen Little his daughters mother
between 1981 and 1992. They met at the Attic Drop in centre at Hornsby in 1979 fell in love & married.
They moved to Picton NSW Australia after Jasmine was born. It was a tumultuous relationship from the very beginning. Deebee explains my regret is I was far too young and selfish to commit to someone else.
Deebee also has a son Finn Manton. His partner Michelle Manton his sons mother, Finn & Deebee live in Lower Buckra on the mid north eastern coast of Australia. Deebee met Michelle many years ago while he was performing a theatre show called Fist Of Affection at the Adelaide Fringe Festival.
Deebee fell head over heals in love with Michelle with in the first minute of the two meeting.
It took another four years for the two to get together, timing is everything Deebee says.
But they did get together and have been best friends, lovers, partners in life ever since.
Deebee has two granddaughters Lola 11 years & Rosa 8 years.
Deebee's father died on July 3rd 2007. This is the day Deebee changed his name from Douglass Kean to Deebee Bishop. Deebee says "freedom at last, now I can break lose the chains, the self doubt the anguish & turmoil of my youth"
It was always a very difficult relationship between Deebee & his father a minister of religion.
This followed or haunted Deebee his entire life until his father passed away.
The teachers at school would call Deebee "The son of God". This is the influence his father Pastor Sydney Kean had over people. The home growing up for Deebee was very strict, children are to be seen & not heard.
You'll do what you are told or you will suffer the strap or in many occasions the fist.
Deebee says "My father was the pillar of society, a brute of a man, I was was utterly terrified of him, I would pee my pants in his company"
Musical equipment and gear
When Deebee finally broke lose from the power and authority his father had over him Deebee started to follow his passion, music. Deebee bought a second hand nylon string guitar from the hock shop at Hornsby. He learnt the hard way, there was no YouTube lessons and no money for a music teacher .
The Library at Hornsby had lots of books about how to hold a guitar, how to play a chord and more importantly Bob Dylan song books.
Within two years Deebee had saved money and bought a Manton CW80 acoustic guitar.
A beautiful instrument.
When the rock n roll bands started Deebee invested in a 1965 Fender Stratocaster & a Marshal with a quad box. He also picked up a Copycat tape echo unit. What a great sound.
Unfortunately as is in the cliche' story of Rock n Roll his band The Nu-Motives went bankrupt, Deebee had to sell everything he had to payback the record company. A lesson learned…never again will this happen in Deebees career as a musician.
Slowly over time Deebee worked towards acquiring musical gear he needed to move forward as a muso.
A Gibson J-200 acoustic was his favourite, the guitar is like magic Deebee would say, the Maton FG100 acoustic guitar is the best working mans guitar one could buy.
A yanokaswa Alto saxophone saw him through the Wollongong conservatorium of music years.
A Selma Clarinet for the jazz gigs at the local pub in Picton.
A Yamaha Tenor Saxophone and a Fender Jazz bass for recording.
Currently Deebee uses a Roland FP series stage piano and a Taylor acoustic guitar for live work.
He has set up a home studio using Cubase with good microphones, a simple affair.
Deebee says "I hate plugins, its all down to recording a good performance and a good sound to begin with. No plugin on earth can come close to listening to what is recorded…Ya cant polish shit"
Bands
As with any working musician Deebee has been in many bands duos and working situations.
Odds n Ends 1981 Hornsby Australia
Sneak Preview 1982 Hornsby Australia
Nu-Motives 1982 – 1985 Balmain Australian
Jazzabilly 1990- 1993 Darlinghurst Australia
The Dullards 1992 – 1994 Picton Australia
Twang 1994 – 1996 Newtown Australia
The WhereAbouts 1998 – 2007 Newtown Australia
The Bob Dylan Revue 2003 -2007 Newtown Australia
The Blue-arse Flies 2004- current Newtown/ Buckra
Discovery
Studio Albums & EP's
Sneak Preview 1982 indie release, EP title "Goodbye For Now"
Nu-Motives 1984 Indian Pacific Touring Co' Perth title "If You Don't Fight You'll Lose"
Twang 1995 indie release CD baby title "Highly Strung & Ready To Twang"
Recorded at Troy Horse Studio Newtown engineer Bruce Wait.
Solo Album 2004 Released by Tenderhooksmusic.com CD baby
recorded Music Mind Studio Sydney Bruce Magginus.
Album title Deebee Bishop Didn't I Tell You?
THIRST Volume 1. 2015 Bellingen Records NSW
Max Thrower engineer & Master.
Released Tenderhooksmusic.com
Title THIRST Volume 1.
Punk-Folk volume 1.  2020 indie release CD baby
Home studio recording Mixed & mastered Soundshedmusic
Engineer Stewart Peters.
Deebee Bishop – Singer songwriter, dad, lover not a fighter, lost in my own world.
Status – Currently surviving, anything but predictable.
My goal – Bigger smiles for everyone.